Sunbeds
Transport to the sun and indulge yourself to an all-round, long lasting tan!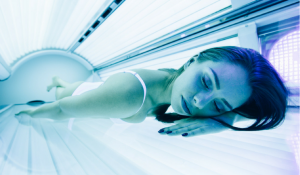 3 minutes – £2
6 minutes – £4
9 minutes – £6
12 minutes – £8
A tanning bed will subject your body to ultraviolet radiation (UV) that will give your skin a natural glow. Here are a few advantages!
Quick, convenient, long lasting tan
A source of vitamin D
Improving mental states and positivity
Increasing confidence
Can sometimes treat skin diseases like vitiligo and acne
Whilst sun beds are great, we ask our clients to be aware of the potential risks. It's vital you do not exceed your recommended time for tanning. It's vital you don't stay on a sun bed for too long – burns and irritation could occur.